Ella Fitzgerald - Ella In London CD • early Japan pressing • target era 252186974228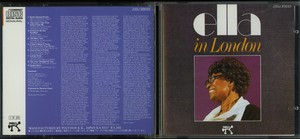 ---
Ella Fitzgerald - Ella In London CD. Early target-era Japan pressing with smooth-sided jewel case.Released on the Pablo label. Catalog number J33J 20033. No obi strip (may have been issued without one).

Condition: Disc: Very Good - has a few cosmetic scuffs/scratches which do not affect play - Guaranteed to play perfectly. Inserts: Good - have a few dents/creases and a few very tiny nicks caused by the jewel case tabs. Back page of booklet has three check marks written in pen. Jewel case: Good - has scuffs and scratches and a small crack on the front.

Track Listing: See photos/scans for track listing.

Note: All CD's are US issues unless otherwise noted.

NOTE: Shipping may take 4-5 days from receipt of payment though I will try to ship sooner. ==============================================================================

US Shipping/Handling $3.50 for shipping/handling by Media Mail or $4.50 for shipping/handling by First Class Mail All items are shipped with tracking where available.

International Shipping/Handling I do not currently ship outside the USA.

Payment Methods Online Payments: Payment accepted online through PayPal.